Sarawak to Netherlands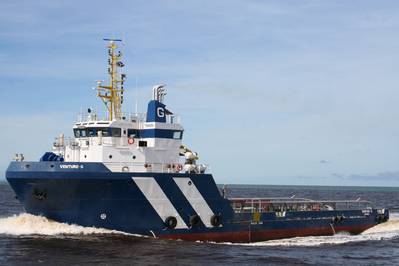 A Dutch owner has taken delivery of the Venture G, the second in a pair of sisterships from the Sealink Shipyard in Miri, Sarawak, East Malaysia. Like the first vessel, the Mare Verde, the second vessel, the Venture G is 53.8 by 13.8-meters with a molded depth of 4.5 meters. Designed by Conan Wu and Associates of Singapore the vessel has an engine room mounted well aft with large tankage capacity forward. The bunker tankage includes 913 cubic meters of IFO 380, 220 cubic meters of MDO and 208 cubic meters of fresh water. The vessel is fitted with a Thermal fluid heater and three cargo pumps ---- two for the IFO 380 and one for MDO.
Main engines are a pair of Cummins KTA50-M2 diesels each generating 1700 HP at 1800 RPM and turning four blade 2000 by 2080 m/m propellers through Twin Disc MG5506 gears with 6:1 ratios. A 5 ton-bow tunnel type bow thruster is also fitted. Auxiliaries are three Cat-powered 245 kW 50 hz sets. The emergency gen set is a Cummins powered 30 Kw set.
Accommodation on the Venture G is provided for 12 crewmembers and up to 30 passengers. On deck a pair of five-ton capstans supplements a 10-ton tugger winch.