Savannah Port to Build Mega Ship Hub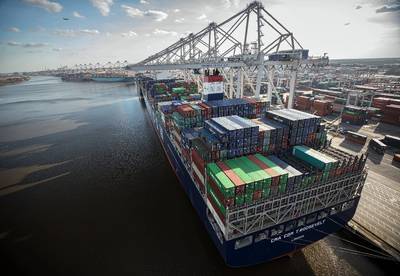 The Port of Savannah will soon be able to unload six 14,000 TEU vessels at the same time. The plan, which is called "Big Berth, Big Ship", effectively doubles the port's capacity to handle mega-boxships.

Georgia Ports Authority (GPA) Executive Director Griff Lynch unveiled the new program that will allow the Port of Savannah to simultaneously handle six 14,000 TEU vessels by 2024, a press release said.

"No other single container terminal in North America has the ability to expand berth capacity at this rate," said Lynch. Currently, Savannah's Garden City Terminal is equipped to handle two of these vessels and by April of this year that number will increase to three.

Port of Savannah had just last week achieved the busiest month ever in its history, moving 433,975 TEUs, a whopping 28 percent jump over the previous year.

"A strong global economy coupled with a growing awareness of Savannah's logistical advantages are driving sustained growth at our deepwater container terminal," GPA Board Chairman Jimmy Allgood said. "GPA's Big Berth/Big Ship program will ensure Georgia stays ahead of demand and ahead of the competition."

Over the next five years, the Authority plans to add another 21 Neo-Panamax ship-to-shore cranes, replacing 14 of its older models to bring the total fleet to 37. Dock upgrades are already under way to support the new, larger machines.