Schat-Harding Develops IMO-Compliant Safety System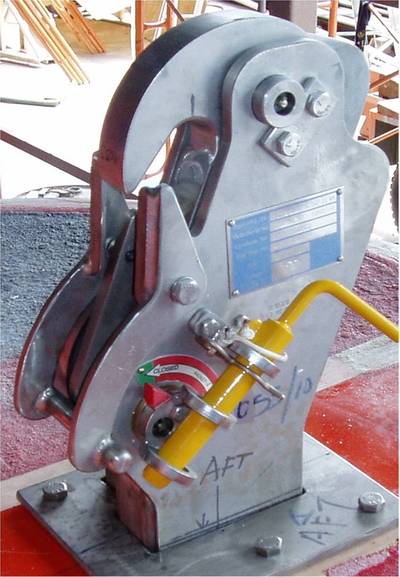 Leading lifeboat manufacturer and service provider Schat-Harding has completed all tests required by IMO to ensure that its SeaCure lifeboat release and retrieval systems (the new name for hooks) meet the new IMO guidelines for existing and new lifeboats.
Reacting to industry requests Schat-Harding has also developed a Secondary Safety System (SSS) for the SeaCure hook. Although not required by IMO guidelines or SOLAS regulations, the SSS is recommended by many shipping industry groups, Birger Grathen, CEO, Schat-Harding Service, says, "IMO has issued mandatory guidelines for lifeboat release and retrieval systems under MSC.1/Circ.1392. These are unusual because they are retrospective and require owners to test and in some cases replace existing equipment. Manufacturers have also had to apply rigid new tests to all their equipment. The rules apply to new boats from 1 July 2014, but there are also tests to be applied to existing hooks, and these will have to be upgraded at the first dry-dock after 1 July 2014 if they do not meet the set standards.
"However, IMO's guidelines do not call for a Secondary Safety System. We are happy to announce that our SeaCure lifeboat release and retrieval systems meet or exceed all the IMO standards, have passed all relevant tests and are now available for shipowners to refit to existing conventional lifeboats. And we have worked with industry groups and our customers to develop a simple but safe optional Secondary Safety System for the SeaCure range. The hook and the SSS meet all industry needs, are approved by flag state and class, are available now, and are backed by our global service network, which is ready to advise owners, assess existing equipment and to fit the new equipment if required."
All shipowners are obliged to arrange an evaluation of existing on-load hooks on their vessels. Hooks which don't meet the new standards need to be replaced no later than the next scheduled dry-dock after the 1st July, 2014, and no later than the 1st July, 2019. If found to be compliant then an overhaul examination should be executed no later than the next scheduled dry-dock after the 1st July, 2014. The one-time follow-up overhaul examination by the manufacturer or authorised representative should be in accordance with MSC.1/Circ.1206Rev1.
Says Grathen, "The new IMO requirements are complex, and are unusual in that they are retrospective. But we are convinced they will make lifeboat release and retrieval systems safer to use, and we are committed to helping shipowners to improve safety at sea. We have been doing that since 1928, and we are right at the forefront of safety with this new equipment, but more than that, we are leading with our global network and our willingness to help owners. There are literally hundreds of types of lifeboat on-load hook system in service, there are thousands of lifeboats which need upgrading, and owners need help to understand and implement the rules. I urge them to ask us, we will help, we want to help, we want seafarers to feel confident that their lifeboats are safe."
Over 100 shipowners have already re-hooked their lifeboats using Schat-Harding service engineers and hooks. Grathen says, "We have the trained and authorised engineers and we have the equipment, but we do urge owners to come forward as soon as possible to evaluate their equipment and needs. Firstly because that way it is safer for their crews, who get the new standards in place quicker, and secondly because they could face business interruption if they leave this until the last minute rush to comply by the due date. These SeaCure hooks can be retrofitted to most types of boat now in service, not just Schat-Harding boats, so we can offer all owners and seafarers the safety of the new IMO-compliant hooks and the security of an engineering team who can assess any hooks now in service and fit the new equipment safely and without service interruption."