Port Scholarships Awarded to 20 Local Students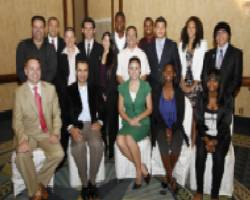 $53,500 to help students seeking trade-related careers
The Port of Long Beach on Friday, May 13, awarded $53,500 in scholarships to six local high school students and 14 college students to help them pursue careers in international trade and goods movement.
With the latest awards, the Port has presented $388,150 in scholarships to 243 students since 1993. The goal of the Port of Long Beach Scholarship Program is to help students prepare for future careers and leadership positions in the international business community.
"These students have accomplished much already and we hope that with our assistance, they will reach their goals of working in the international trade industry," said Richard D. Steinke, Port of Long Beach Executive Director. "On behalf of all of us at the Port, I'd like to congratulate the recipients of this year's Port of Long Beach scholarships."
Scholarships were awarded in six categories:
Long Beach Unified School District Port Scholars: Jonathan Barrios, Christine Board, Rajan Hoyle, Marcel Jones, Tierra S. Moore, Karina Michelle Simpson.
California State University Long Beach, International Business program: Jiayi Cui, José Espeleta, Zang Moua, Rita Silkensen, Sota Sunleng, Nicholas Townsend.
Woodrow Wilson Memorial Scholarships for students in the Long Beach City College International Business Program: Christian Flores, Victor Roman.
Long Beach City College School of Trades and Industrial Technologies scholarship: Thomas Aird.
Global Logistics Specialist program at Cal State Long Beach: Laura Guerrero, Andy Holder.
Master of Arts in Global Logistics program at Cal State Long Beach: Amir Khan, Samuel Palacios, Pablo Sierra.
Source: http://www.polb.com