World Ocean Schoolship for Savannah Stay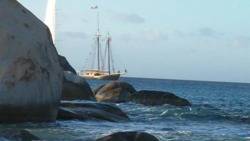 Tall ship 'Roseway' will offer sponsored adventure training to youngsters from mooring in Westin Savannah Harbor Marina
The Roseway, one of the tall ships that visited Savannah recently as part of the Tall Ships Challenge, has chosen the city as a permanent port of call. Roseway is part of the World Ocean School, which in conjunction with The Westin Savannah Harbor Golf Resort & Spa, Wednesday announced its new home at The Westin Savannah Harbor Marina.
Roseway will maintain her winter and summer ports in St. Croix and Boston, and will dock in Savannah for approximately six weeks in the transition periods which occur twice a year.
While in Savannah, the schooner will be available for its normal mission of instilling life skills and academic enrichment for youth and with the aid of The Westin will also be made available for private events, with the rental revenue going to support student programming.
"I am thrilled to be able to help the World Ocean School reach children, especially the under-served youth in our community," said Westin general manager Mark Spadoni. "By donating the dock space and assisting in fundraising we hope that Roseway can create a lasting impact on the lives of our youth locally. It is great to have a historical ship like Roseway be able to call Savannah one of their home ports."