GAC Helps Deliver Goliath Crane to Rosyth Scottish Dockyard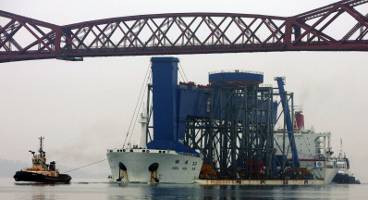 It took meticulous handling and perfect timing to sail the Goliath crane beneath theForth Bridge on its way to Rosyth shipyard in late February/early March. With careful coordination by GAC Shipping UK's Leith office acting as port agent with all the parties involved, the massive load arrived safe and sound.
Carrying it was the Zhen Hua 13 vessel, built by Shanghai Zhenhua Heavy Industry Co Ltd (ZPMC), the world's
largest heavy-duty equipment manufacturer
. At nearly 45,000 DWT the Zhen Hua 13 is one of the biggest vessel that can pass beneath the Forth Bridge – and even then only at the lowest astronomical tide.
The crane, which weighs in at nearly three million kg, is being used to help the construction of the British Royal Navy's two newest aircraft carriers – to be named HMS Queen Elizabeth and HMS Prince of Wales. The carriers will be the biggest and most powerful surface warships ever built for the Royal Navy.
Colin Peretto, Agency Manager at GAC's Leith office, said: "Since we first learned of this project in November 2008 and the intended shipment of the Goliath crane in April 2010, there's been a hive of activity to coordinate and plan for the vessel's arrival. Through preliminary meetings with Babcock, both bridge authorities, the Port Authority and their services and subsequent continual weekly communication, the meticulous planning has now paid off, effecting a very smooth, very safe operation from transit of the bridges to the vessel's final berthing in Rosyth".