CNO Addresses Payloads, Platforms at Sea-Air-Space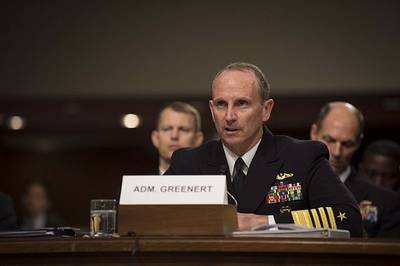 The Navy's top admiral joined his sea service counterparts to discuss the importance of the sea services at the Sea-Air-Space Service Chief Update Panel today.

Speaking to members of national and international defense industries, Chief of Naval Operations (CNO) Adm. Jonathan Greenert encouraged partnership and increased reliance on payload capacity rather than platform designs.

"We need lower cost approaches," said Greenert. "We need to tailor the ship more to the mission."

Citing recent anti-piracy operations that used larger platforms, Greenert insisted that the same mission could be accomplished successfully, and economically, with flexible platforms such as the Littoral Combat Ship (LCS) or Joint High Speed Vessels (JHSV).

"Adaptive force packages need a paradigm shift," said Greenert. "We've got to decouple our payloads from the platforms." As industry develops new payloads, the Navy can apply innovatively to different platforms, he said.

During Greenert's panel remarks, he went on to highlight such innovation with two videos. The first video was a railgun demonstration which will be tested on a JHSV in 2016. The other video was of a recent Griffin missile live-fire exercise from a patrol craft in the Fifth Fleet region.

Greenert noted these two payloads as an example of the evolving technology and innovation that industry and the services must grow together.

The Navy's mandate is presence, and the key to accomplishing it is with flexible and innovative ship platforms being brought up now to the fleet, said Greenert. He also presented new ships entering the fleet such as Mobile Landing Platform (MLP) and the Afloat Forward Staging Base (AFSB) as complements to the forcible entry platforms the Navy has today.

While talking about these innovative payloads and platforms, Greenert highlighted that partnerships are important to this innovation. He said between the sea services and among industry that it is essential to staying on budget, while innovating.

"I think we need to work much more jointly as requirements emerge, and we must ask: what are we going to build," said Greenert during a Sea-Air-Space interview with Federal News Radio, discussing joint interdependence. "We need to buy more jointly as we operate more jointly."

Partnering with overseas military defense industries is also essential in the future, looking for those who build most effectively and efficiently, said Greenert.

During his remarks, Greenert highlighted the importance of the conference and the military's relationship with industry. He also laid out what was at risk in today's budget environment and why the synergies with industry and the services must further develop.

Ongoing budget fluctuations pose the greatest threat to the industrial base that underpins the Navy's success, said Greenert.

The Navy League's Sea-Air-Space Exposition brings the U.S. defense industrial base, private-sector U.S. companies and crucial military decision makers together for an annual innovative, educational, professional and maritime networking event.