Sealink Anchor Handlers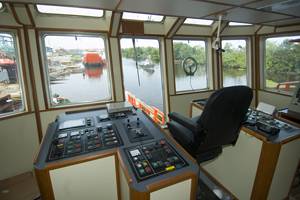 As the Sealink Maju 26 enters service a sister-ship the Sealink Maju 25 is undergoing a final fitting out at the Sealink yard in Miri, Sarawak East Malaysia. There is strong demand for this class of Anchor Handling Tug (AHT) in the and on other fields worldwide. Both vessels are fitted with double drum waterfall winches with 150-ton line pull. The stern roller is SWL 120 ton and there are also two ten-ton tugger winches and a single five-ton capstan.? The aft deck has 140 cubic meters of open cargo space with a load capability of five tons per square meter.
Powering the 38-meter by 11.8-meter hull is a pair of Cummins QSK60 mains each delivering 2200 hp to fixed pitch propellers in nozzles to give the boats a bollard pull of 55 tons. A five-ton bow thruster enhances maneuverability while three 245 kW generators meet electrical requirements. A rescue boat is mounted in a davit. The vessel is equipped with both fifi and dispersant capabilities. Both the main engine room and bow thruster room are fitted with CO2 systems. Sewage treatment to MARPOL 1 standards is provided for an 18-crew compliment and the ABS classed vessels are fully air-conditioned.