Energy Searcher Gets Offshore Nigeria Contract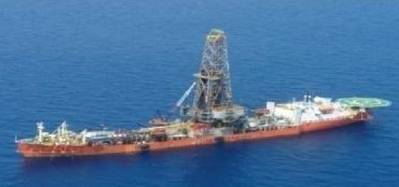 Northern Offshore subsidiary, Northern Offshore International Drilling Company says it has executed a long-term drilling contract with an affiliate of CAMAC Energy Inc. for its drillship 'Energy Searcher'.
The contract commits to an initial period of one year, with an option to extend the contact for an additional one-year term. Commencement of drilling activities on the Oyo Field offshore Nigeria is expected during the first half of 2014.

The contract value for the first one-year term is just under US$100 million, plus mobilization fees.
The Energy Searcher is a conventionally moored drill ship, able to operate in water depths of up to 2,500 ft. It is equipped with an 18-3/4 inch x 10,000-psi BOP stack, a Maritime Hydraulics DDM top-drive and an eight-point chain mooring system. It has a deck load capacity of 9,000 tons and is able to accommodate 110 people. The rig was completely refurbished and upgraded in 2006 and underwent its five (5) year SPS (May 2011) in Singapore, with additional upgrades in 2012.
About the Company
Northern Offshore, Ltd. is a Bermuda holding company which operates offshore oil and gas drilling units and one production vessel in various markets around the world, including the North Sea, the Indian Ocean, Southeast Asia and West Africa. The company's fleet consists of four drilling units (a drillship, a semisubmersible and two jackup drilling rigs) and one floating production facility.

Additionally, the company says it has under construction two 350' high specification jackup drilling rigs, with delivery expected in the first and third quarters of 2016.