Seatruck Installs BWTS during Normal Service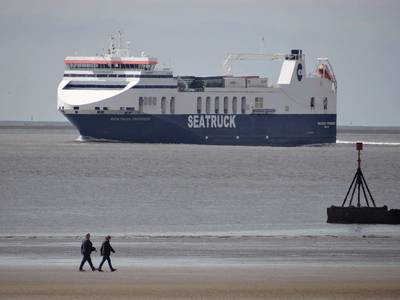 When the time came to select ballast water treatment systems for retrofit on board its vessels, freight ferry operator Seatruck opted for the Optimarin Ballast System (OBS) for its ships, citing ease of installation, reliability, cost efficiency and complete regulatory compliance as deciding factors.
The roll-on roll-off (RoRo) cargo specialist went on to install five systems itself while its vessels were undertaking normal operations – no dry dock required.
Seatruck operates a fleet of 10 ferries ranging in capacity from 65-150 trailers, with more than 60 weekly departures servicing three routes
linking Ireland
and the North of England. This regular sailing schedule, between set ports, ensured the firm could call on local contractors to 'hop on and off' and carry out whatever engineering work the crew themselves couldn't manage.
"We wanted Optimarin systems because of their track record of quality and approvals, but also because, with their modular nature and operational simplicity, they're easy to install," said Seatruck Fleet Director, Ben Coppack. "As a short sea operator we had the goal of carrying out all the work while the ships were in service, with no downtime, thus keeping costs as low as possible.
"With the Optimarin systems and service – quickly responding to any queries or issues we encountered – this wasn't a problem. Our own crews actually performed the vast majority of work themselves using Optimarin's manuals. They were really proud of the excellent work they did, and rightly so.
"We're very pleased we took this approach, ensuring port state compliance and BWT reliability ahead of regulatory demands."
Seatruck kicked off the installations with the 5,300 dwt Seatruck Progress in November last year, followed by the remaining four systems installed between January and the end of September this year.
"This is the first time I've heard of a ship owner installing this number of systems themselves while their vessels are in service," said Optimarin CEO, Tore Andersen. "It's a testament both to their mission to provide optimal efficiency to their stakeholders and customers, and to the simplicity of our environmentally friendly, UV-based system.
"With the ratification of the IMO Ballast Water Management convention, and the strict regulations imposed by the U.S. Coast Guard, the entire world fleet needs to find proven, effective and reliable systems to ensure compliant sailing. This has the potential to create huge bottlenecks at yards – and obviously increase installation costs. However, Seatruck has shown that, with a system as straightforward and effective as ours, there is another way. I think that's something that will really resonate with ship owners worldwide."
The OBS is fully approved by both IMO and USCG, with certification
through DNV GL
, Lloyd's, Bureau Veritas, MLIT Japan and American Bureau of Shipping.
Optimarin said it has received orders for more than 520 systems to date, with more than 330 installed worldwide, of which 150 are retrofits. The firm, which has focused exclusively on BWT since its formation in 1994, was the first to receive full USCG approval for its system, gaining certification in December last year.
"The market is picking up gradually," Andersen said. "Ship owners need to comply, and they need systems that they can rely on."