Second Keel Laid for Royal Navy Type 31 Frigate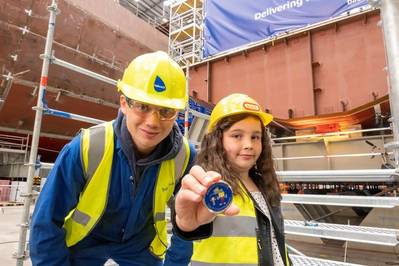 Babcock International Group continues its successful delivery of the Royal Navy Type 31 frigates with the keel laying of HMS Active, the second of the five-ship Inspiration class program.
The two warships are being built simultaneously, with work continuing only meters away on the first of the Inspiration class, HMS Venturer.
In keeping with tradition, Babcock asked their youngest apprentice, first-year Electrical Fitter, Robbie Dick, to place the specially designed coin under the keel.
Babcock's Type 31, its Polish frigate program and Indonesian Merah Putih frigate program are based on Babcock's Arrowhead 140 design. The design originates from an air defence frigate but is able to change operational role rapidly depending upon capability needs. Arrowhead 140 can be configured to operate independently or integrate with a Task Force to conduct offensive and defensive surface, sub-surface, and air warfare and is operationally proficient in both blue water and littoral areas.