Damen's Boer Secures WISTA Post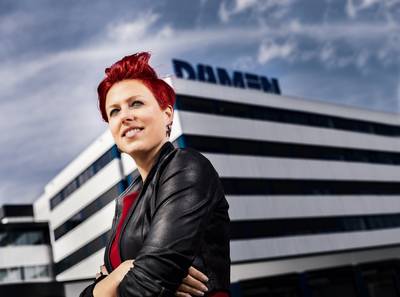 Damen's Head of Communications, Sylvia Boer, has recently been appointed President of the Netherlands chapter of WISTA – the Women's International Shipping and Trading Association. WISTA the Netherlands was founded in 2000 and currently has 140 members from across the maritime industry.

WISTA the Netherlands focuses on a number of priority topics affecting the industry. Amongst these are sustainability, new technologies, big data, health & safety, cyber security, block chain, developing cultural sensitivity and last, but by no means least, clean oceans.

WISTA has 3,000 members in 40 countries from diverse maritime-related organizations including ship operators, shipyards, equipment suppliers, brokers, banks, insurance specialists, legal experts and training and research institutes. Its chapters around the world aim to support women in the industry via such means as regular meetings, workshops, presentation speeches and company visits.

Last month, one such visit took place in Sharjah, when WISTA UAE visited Albwardy Damen. Present at the event was HRH Princess Sarah Al Saud, Director of Maritime Business Development and the International Forum for Maritime Transport at the Arab Academy for Science, Technology and Maritime Transport.