MTU Series 4000 Marine Engines Selected by Southern Towing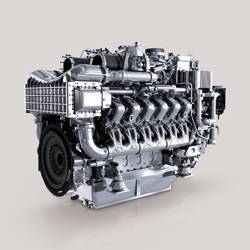 Tognum America Inc., a Tognum Group subsidiary and manufacturer of marine and off-highway engines, will supply twelve MTU Series 4000 diesel engines to power six push boats operated by Southern Towing Company, an established inland waterways barge operator on the Mississippi River system and the Gulf Intracoastal Waterway.
The high-speed diesel marine propulsion engines from MTU will be used to power four new push boats and repower two older vessels in the company's fleet. According to William Stegbauer, president of Southern Towing, the first two vessels to be built will be approximately 100 feet in length and feature a propulsion system that is unusual on the inland waterways.

Specifically, the boats will be equipped with hydraulically operated Z-drive propulsion units powered by two MTU 8V 4000 M23S engines running at a constant speed. In this design, the propulsion engines run at a constant 1,800 rpm, while the hydraulic propulsion unit provides fully proportional speed control to a fixed-pitch propeller in a 360-degree azimuth Z-drive. An advantage is that the 1,234 bhp engines will also be powering generators to supply hotel loads on the boats, eliminating the cost of separate generator sets.

The second pair of push boats will be approximately 120 feet in length and will each feature two MTU 12V 4000 M53 engines, rated to produce 1,851 bhp at 1,800 rpm. Southern Towing will utilize 1,600 bhp at 1,800 rpm for this specific application. These larger vessels will be equipped with a one-meter drive shaft connected to a mechanical 360-degree azimuth Z-drive.

"These new boats are similar to vessels we built three years ago," said Stegbauer. "But this is the first time our company will use MTU engines. We had looked at them in the past, but now they have the emissions-approved engines in the horsepower class that we need. We like them for their high fuel efficiency, low emissions and reliability."

All four new vessels were designed by Ed Shearer & Associates, and construction started in January 2012 at Steiner Shipyard in Bayou La Batre, Ala. MTU distributor Stewart & Stevenson/EMDSI will package the engines, alternators and other accessories in Harvey, La., according to Jeff Sherman, senior marine sales manager for Tognum America. The first of the new vessels is expected to be completed by December 2012.

The MTU 12V 4000 M53 engines will also be used to repower two existing push boats, replacing existing 2-Cycle, medium-speed engines in order to improve on overall fleet fuel efficiency and emissions.