Tideland Supplies Self-Contained LED Lanterns in Sri Lanka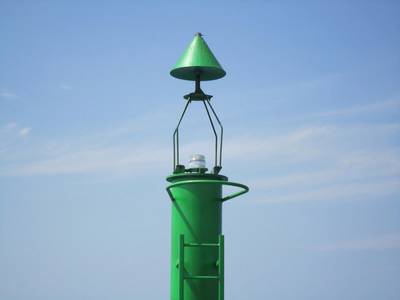 Tideland Signal, an international specialist in aids to marine navigation, has won the contract to supply SolaMAX solar-powered marine lanterns to guide vessels safely through the reef and into the new fishing harbour of Dikkowita on the west coast of Sri Lanka, 10 km to the north of Colombo.

The new harbour is designed and built by BAM International bv for Sri Lanka's Ministry of Fisheries and Aquatic Resources Development under a €44 million contract funded in part by the Dutch government. Engineer on the project is Royal Haskoning. SolaMAX lanterns were chosen following their successful installation as harbour entrance lights in 2010, which was fully supported by Tideland with technical advice and supporting information.

This second contract is for two SolaMAX-155 lanterns installed on steel pedestals within the harbour precinct and acting as front and rear leading lights. For commonality, there are also two SolaMAX-140 units mounted on Tideland SB-138P sentinel buoys marking the port and starboard limits of the approach channel. To make the lanterns more conspicuous, they are all fitted with a GPS synchronisation chip. The IALA MBS-compliant buoys are supplied complete with top marks and heavier than usual mooring kits, both to enhance positional accuracy and to increase the maintenance interval.

The compact lightweight design of Tideland's SolaMAX 140 and 155 features integral solar panels charging a sealed lead acid battery via a solar regulator. All the internals, including the long-life LEDs and high-integrity electronics, are contained within a tough UV-resistant polycarbonate enclosure and will even withstand being temporarily submerged in salt water. The only time the lantern needs to be opened would be to change the battery, recommended after 5 years operation.

The Tideland SB-138P is one of a comprehensive range of rotationally moulded polyethylene buoys with a solid core of expanded polystyrene foam. Tideland's innovative mould and fill manufacturing process prevents significant ingress of water in the event of a puncture. Before moulding, the polymer is compounded with UV inhibitors and pigment so that the wall thickness is evenly UV stabilised and colour is uniform throughout. As a result, painting is never necessary. In addition, the buoy is unsinkable, corrosion-resistant and resists marine growth.

The new harbour will provide direct access to the sea for local fishermen who now have to use the Hamilton canal and Negombo lagoon and will replace various inadequate berthing facilities. Approximately one kilometre long, the harbour basin is formed by two breakwaters with quay walls at the landward side. Designed to handle a daily throughput of 125 tonnes of fish, Dikkowita will include administration and auction buildings, a repair facility, general store, crew amenities, fuel and water facilities and a slipway.