Korean Yard Contracted to Build Giant Semi-submersible Rig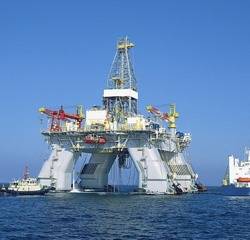 Hyundai Heavy Industries (HHI) announce their order to build a semi-submersible drilling rig for Fred Olsen Energy
Hyundai Heavy, as a turnkey contractor, will undertake all works including engineering, procurement and commissioning for the USD 700 million project. The contract also includes an option exercisable by the owner to order an additional same class drilling rig.
The rig will be built at Hyundai Heavy's Gunsan Shipyard. Equipped with a 1,650 ton Goliath Crane and the world's largest 1.3 million DWT dry dock, the Gunsan Shipyard has delivered 26 ships since its establishment in 2010.
The semi-submersible, measuring 123 m in length and 96 m in width with an operating depth range of 70 m to 3,000 m, will be built according to NORSOK standards. These standards are applicable to rigs operating in the adverse conditions of the North Sea. When completed in March 2015, this semi-submersible rig will be the biggest ever built and able to drill to depths of 12,200 m.