Korean Shipbuilders May Fail to Achieve Targets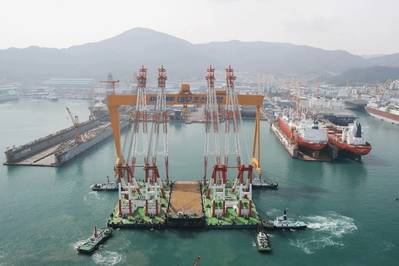 South Korea's big three shipbuilders - Hyundai Heavy Industries Co., Daewoo Shipbuilding & Marine Engineering Co. and Samsung Heavy Industries Co. - may miss this year's order targets as a global economic slump and lower oil prices sharply reduce shipbuilding demand, reports Yonhap.
The country's big three racked up a combined US$26.1 billion worth of orders through November, a little more than half of this year's order target of $47 billion, according to industry sources.
By company, Hyundai Heavy clinched orders worth $11.6 billion in the first 11 months of the year. The shipyard has targeted to bag orders worth $19.1 billion. Daewoo Shipbuilding is also forecast to fail to meet its order target of $13 billion. During the 11 months of the year, the shipyard logged $4.3 billion worth of contracts.
Samsung Heavy received orders valued at $10 billion, far lower than this year's order target of $15 billion. Last month, South Korean shipbuilders' new orders fell to the lowest level in six years amid woes over their growing losses, while Chinese rivals scooped up a large slice of contracts.
If the current pace continues into this month, their combined orders are expected to decline to $27 billion this year from last year's $38.4 billion.
For next year, each shipyard has set its order target at $10 billion, and plans to continue its offshore facility-related business.