Bleeding Continues for Korean Shipbuilders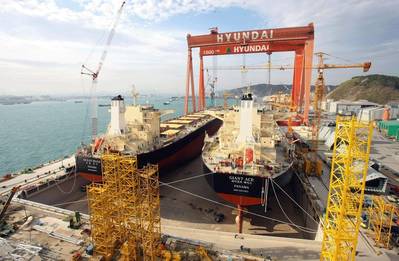 South Korea's big three shipbuilders are set to post over 8 trillion won (US$6.66 billion) in operating losses in 2015 because the industry has not found a way out of a prolonged slump, reports Yonhap.
According to the industry data, the top three shipyards -
Hyundai Heavy Industries Co.
,
Samsung Heavy Industries Co.
and Daewoo Shipbuilding & Marine Engineering Co. - are stung by a combination of a prolonged industry slump, a series of order cancellations and a delay in the construction of offshore facilities.
If confirmed, it would mark the first time for all of the nation's three largest industry players to register operating losses. In 2014, their combined operating losses hovered above 2 trillion won.
Among the Big 3, Daewoo Shipbuilding & Marine Engineering (DSME) seems to be in the biggest trouble. DSME's 2015 operating losses are estimated to be about 5 trillion won, with corresponding figures for Hyundai Heavy Industries and Samsung Heavy Industries reaching 1.5 trillion won and 1.7 trillion won each.
An industry watcher said the big three shipbuilding companies put up the worst performance last year. "It is the first time ever that the shipbuilding industry has chalked up such a dismal result," he said. "The situation in 2015 was worse than during the country's foreign exchange crisis in the late 1990s."
"Faced with record operating losses this year, those shipbuilders urgently need to sell non-core assets, resolve ongoing labor disputes over wages and welfare benefits and suspend any industrial action to help put the industry back on track," shipbuilding officials said.