Newport News Shipbuilding Celebrates 125th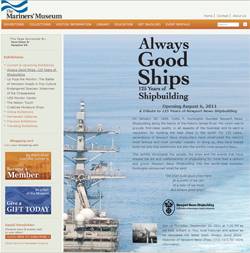 Huntington Ingalls Industries announced today that its Newport News Shipbuilding (NNS) division has partnered with The Mariners' Museum to share the shipyard's history through a collection of 51 photographs. The exhibit, named "Always Good Ships," will be open to the public Aug. 6 through Oct. 31.
"We are excited to partner with The Mariners' Museum to recognize our shipbuilders and the important role they play in our community and in the security of our nation," said Matt Mulherin, president of NNS. "This exhibit showcases both the incredible work of our talented people and that of our equally talented photographers who work every day to document Newport News Shipbuilding's many milestones and its great people and products. We are proud of what we do, and that pride is captured in this collection that is now on display for the community to enjoy."
The photographers behind the lenses of the collection's shipbuilding photographs are:
-- The late Judi Baldwin, a former United States Marine Corps photographer and the first female NNS photographer. Baldwin retired in 1995.
-- Bob Cohen, who worked as a shipyard photographer during the 1960s and 1970s.
-- The late Lloyd Everton, who served as a photographer and videographer for the shipyard for many years.
-- Stu Gilman, a former photography supervisor who retired as the only master shipbuilder photographer in the shipyard's history. "Master shipbuilder" is a title given to Newport News Shipbuilding employees who have at least 40 years of continuous service.
The exhibit, which documents everything from the flooding of the shipyard's first dry dock in 1889 to the shipyard's return to its Newport News Shipbuilding name earlier this year, was named to pay tribute to the "always good ships" legacy of Collis P. Huntington, shipyard founder. Huntington's motto, which is still the foundation for the shipyard's work ethic today, is: "We shall build good ships here, at a profit if we can, at a loss if we must, but always good ships."
For more information about the exhibit, visit www.marinersmuseum.org/exhibitions/nn125