Eastern Shipbuilding Delivers Tug, Launches PSV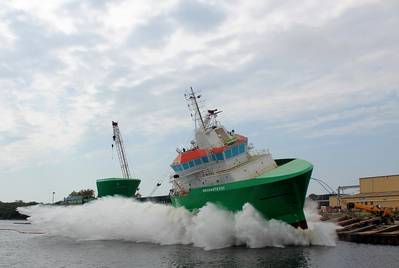 Eastern Shipbuilding Group, Inc. says it has delivered the tugboat M/V JAMES DALE ROBIN to Florida Marine Transporters, Inc. of Mandeville, LA. and not long before that christened and launched the Platform Supply Vessel (PSV) M/V BRAVANTE VIII for Boldini S.A., BRAVANTE GROUP of Brazil.

Tug JAMES DALE ROBIN
In 2013 Florida Marine Transporters, Inc. exercised more options for five additional 90'x32'x10' Inland Towboats. In February 2014, the first of the five option towboats, the M/V CAPT. TROY J. HOTARD, the 56th Towboat built by Eastern, was delivered to Florida Marine. This ongoing series of towboats originally began with a twenty-five vessel contract with on-time deliveries starting in 2006. It has expanded to become the largest single towboat build contract in history. The additional five vessel contract is being constructed from the design furnished by Gilbert Associates, Inc. of Boston, MA.

These five vessels will be the first in the series with EPA Tier 3 main propulsion engines and generators delivered to Florida Marine. The vessel is powered by two Caterpillar 3512C Tier 3 diesel engines rated at 1,500 HP at 1,600 RPM provided by Louisiana Power Systems.

M/V BRAVANTE VIII
The BRAVANTE VIII is the fourth of five vessels in a series and are ABS A-1, SOLAS/IMO, FFV-1, DPS-2, AC Diesel-Electric powered, twin propulsion PSV's.

Eastern inform that main propulsion power is provided by two 690VAC electric motors driving two Schottel Combi-Drives Single Fixed Pitch Propellers with Nozzles rated at 2,500 kW at 750 rpm each for a total of 6,700 Hp.

Attending from Bravante were Nuno Neves, CEO, and Arnaldo Faissolmendes, CFO, along with additional members that traveled from Brazil to witness the launch.

Mimi D'Isernia had the honor of christening the vessel standing alongside her husband, Eastern's President Brian D'Isernia, who said a few words about the continued bright future of shipbuilding here in the United States, how this project continues to add more local jobs and his gratitude to Eastern's skilled workers prior to the launch.

The shipbuilders add they are currently contracted to build a total of sixteen vessels of similar size and complexity for customers here in the United States and in Brazil. These contracts maintain Eastern's reputation as the largest OSV/PSV and MPSV new construction shipyard in North America.