Latest Global Ocean-Going Shipbuilding Round-Up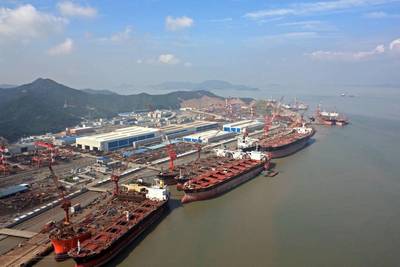 A relatively active past week in the dry bulk newbuilding market is noted by Clarkson Hellas in their S&P Weekly Bulletin.

Dry bulk carriers
Oldendorff Carriers have contracted two firm plus two option 208,000 DWT Newcastlemax at Hantong Shipyard, with delivery of all four vessels in 2016. Oldendorff have also declared one further option at Jiangsu New Yangzijiang and two options at Taizhou CATIC all for 208,000 DWT Newcastlemax and delivering in 2016.
Oldendorff are also understood by Clarkson Hellas to have declared two options for 82,000 DWT Kamsarmax and three options for 38,300 DWT Handysize at Jinling Shipyard. This takes the series for both sizes at the yard to six and nine vessels respectively.

In Korea, Reuben Brothers have contracted four firm plus two option 82,000 DWT Kamsarmax at Sungdong, with delivery of the firm vessels planned from the third quarter of 2015.

Tankship market
Limited activity in the tanker market was noted by Clarkson Hellas, starting with an order for a single 308,000 DWT VLCC from Dalian Ocean Shipping at Dalian COSCO KHI (DACKS), due for delivery in 2016.

At Uljanik/3.Maj in Croatia, Spanish owner Marflet have contracted two firm 50,000 DWT MR Product/Chemical tankers, due for delivery in 2015 and 2016. Heung-A Shipping have ordered two firm of each 3,600 and 12,000 DWT Stainless Chemical Tankers at Daesun, due to deliver from the beginning of 2016.

Gas carriers
Clarkson report just one order in the gas market with Solvang contracting a single 60,000 CBM LPG carrier at HHI. This makes a series of three firm vessels, with the latest due to deliver in mid-2015.

Cruise ship
Fincantieri have announced an order for a single 40,350 GT Cruise Ship from Seabourn Cruise Line, due to deliver in September 2016.

Source: Clarkson Hellas S&P Weekly Bulletin