Shipbuilding: StealthGas Adds LPG Vessel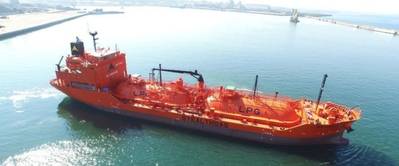 StealthGas announced the delivery of its last newbuilding LPG vessel and the completion of its newbuilding program.
The vessel delivered yesterday (April 17, 2018) is a 22,000 cbm ice class semi refrigerated hybrid scrubber fitted eco LPG carrier, the Eco Freeze, the fourth and last 22,000 cbm semi refrigerated eco LPG newbuild.
This acquisition concludes the Company's expansion phase which commenced in 2011 and totaled the acquisition of 26 newbuilding LPG vessels. Twenty ships were delivered from Japanese yards and six from South Korean yards.
StealthGas Inc. is a ship-owning company primarily serving the
liquefied petroleum gas
(LPG) sector of the international shipping industry.
It currently has a fleet of 56 vessels, comprising 52 LPG carriers with a total capacity of 329,149 cubic meters (cbm) (three LPG vessels are chartered in), three M.R. product tankers and one Aframax
oil tanker with
a total capacity of 255,804 deadweight tons (dwt).