Bay Shipbuilding Begins Steel-Cutting on Tidewater PSV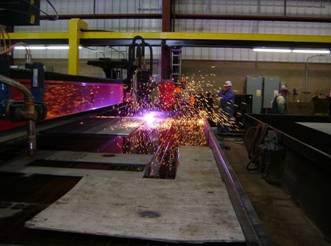 Fincantieri Marine Group (FMG) announced that its Bay Shipbuilding Company started steel-cutting on two 92.4-meter (303') platform supply vessels (PSVs), of the MMC 887 LH PSV Design from MMC Ship Design of Poland, for New Orleans, La.-based Tidewater Marine, LLC, a wholly-owned subsidiary of Tidewater Inc. The deepwater PSVs are state-of-the-art diesel-electric Z-drive propulsion vessels with redundant dynamic positioning (DPS-2), polar class 7 (Ice Class PC 7), firefighting class 2 (Firefighting Vessel Class 2), and ENVIRO ABS notations.
"I am very pleased and excited that we are building the first Polar Class 7 Platform Supply Vessels for Tidewater Marine under the newly developed American Bureau of Shipping (ABS) Rules," said Gene Caldwell, Vice President and General Manager of Bay Shipbuilding Company. "This has allowed us to transition from the OPA '90 Tank Barge Market into the Offshore Arctic and Deepwater Market Sectors. Equally important, this production will jumpstart the recall of our previously laid-off workers."
"With the win of this project, our focus remains to acquire additional contracts and grow our commercial business in concert with the continued CAPEX support being provided by our parent company, Fincantieri Cantieri Navali Italiani S.p.A.," said Floyd Charrier, Vice President of Sales and Marketing.