ShipConstructor 2014 Released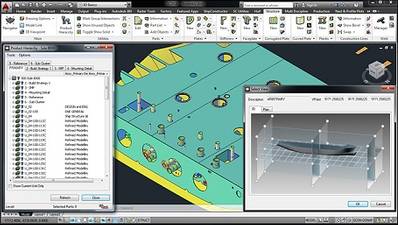 With the release of its new ShipConstructor 2014 software, SSI said it has dramatically enhanced ShipConstructor's user experience to promote more efficient workflow. Major new products have been added to the software suite containing improved capabilities for the design and construction of piping systems along with enhanced capabilities for the reuse of design work. Most noteworthy of all is an innovative new product called MarineDrafting which allows 2D approval and workshop drawings (in DWG format) to be created directly from the 3D model while remaining associatively linked. These new products along with numerous enhancements give users the ability to increase productivity and add new deliverables to their current service offering.

P&ID DesignValidation allows for the checking and validation of the ShipConstructor 3D pipe model against 2D schematics generated in standalone P&ID software including AutoCAD P&ID. The validation is performed using neutral formats to allow clients more flexibility in the choice of P&ID software.

PipeLink allows the piping systems within a ShipConstructor project to be used within other business processes and applications. This is accomplished through an export to the PCF format from within a ShipConstructor production drawing.

In a world of 3D design and manufacturing, many activities still need to be supported with 2D drawings during design and throughout the shipyard. Using shipyard standards, MarineDrafting allows the creation of 2D approval and workshop drawings directly from the 3D model. These drawings are created in AutoCAD DWG format and remain associatively linked to the 3D model as changes happen.

ShipConstructor 2014 brings a modernized user experience to ShipConstructor that improves the discovery of features and intuitively guides users in accomplishing tasks. It has 400+ redesigned icons and new arrangements of tools and commands in ribbons and windows. These changes enhance clarity and more accurately reflect modern workflows. ShipConstructor 2014's new environment loader is a notable example of this enhancement.

Based upon analysis of how clients perform labeling, SSI has made changes to improve efficiency. This enhancement will further add to ShipConstructor's competitive advantage related to its strength in efficient detailing of DWGs.

Finally, ShipConstructor's ability to share work between distributed offices has further improved. WorkShare Project has several new features to improve efficiency such as the ability to save selection sets in the "Split" dialog, as well as command line options for automation.