Ardmore Shipping Gets Two New Chem Tankers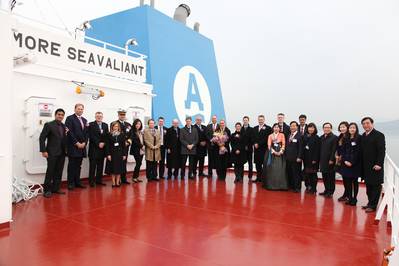 Ardmore Shipping Celebrates Naming of "Ardmore Seavaliant' and 'Ardmore Seaventure'. Ardmore Seavaliant immediately chartered to Cargill, following naming at SPP Shipbuilding.


Chemical and product tanker specialist Ardmore Shipping has named the two newest vessels to join its fleet, the Ardmore Seavaliant and the Ardmore Seaventure. The naming ceremonies for the two newbuild vessels took place at SPP Shipbuilding in South Korea, prior to the Ardmore Seavaliant being immediately delivered to Cargill on a 12-month time charter arrangement.


The Ardmore Seavaliant and Ardmore Seaventure are 49,999 deadweight tonnes (dwt) IMO 3 product and chemical tankers, constructed by SPP Shipbuilding. The vessels have been built to SPP's industry-leading design for this class of vessel and incorporate a number of advanced specifications to deliver higher standards of fuel efficiency and operational performance. These technologies, which are anticipated to reap fuel savings of 10 to 15%, include in various versions a larger, more efficient propeller, Mewis Duct and Propeller Boss Cap Fin devices for improved propeller and hull form efficiency, MAN B&W ME-B and ME-C electronic engines, high performance hull coating from International Paint, and SkySails' Performance Monitor voyage optimisation system. The ships have also been verified by ABS in accordance with the voluntary energy-efficiency requirements of the IMO's Energy Efficiency Design Index (EEDI) for new ships.


The naming ceremonies for the vessels were held at SPP's Dukpo and Sacheon Shipyards in South Korea and attended by representatives of Ardmore Shipping, SPP Shipbuilding, Cargill, Thome Ship Management, ABN Amro, ABS and others.


The Ardmore Seavaliant is the first newbuild delivery for Ardmore Shipping, based in Cork, Ireland. She joins Ardmore's existing fleet of six product and chemical tankers, with the fleet now representing over 250,000-dwt and an average age of less than six years. Ardmore expects to take delivery of the Ardmore Seaventure from SPP Shipbuilding in May 2013, with two more 49,999-dwt IMO 3 product and chemical tankers, scheduled for delivery from SPP in January 2014.


Anthony Gurnee, CEO of Ardmore Shipping, commented: "It is a proud occasion for Ardmore Shipping to celebrate the naming of the Ardmore Seavaliant and the Ardmore Seaventure, and to take delivery of the Seavaliant, our first newbuild vessel. We are delighted with the quality of the Seavaliant, which is a testament to SPP Shipbuilding's deserved reputation for this class of vessel and to the strength of our working relationship with SPP. We are looking forward to building upon this relationship with the delivery of the Seaventure later this year, as well as our third and fourth newbuild vessels, which will follow in early 2014. "We are delighted that the Seavaliant is entering service with a reputed charterer such as Cargill and we are confident that she will serve Cargill to a very high standard. Taking delivery of our first newbuild vessel is a significant step for Ardmore, as we continue to build a modern, high quality tanker fleet and a business that has a reputation for maintaining the highest standards of operational performance, commercial flexibility and integrity."


Mr. Han-Joung Kwak, President and CEO of SPP Shipbuilding commented: "We are delighted to have delivered the Ardmore Seavaliant to Ardmore Shipping and very proud of the vessel, which we believe reflects SPP Shipbuilding's world-leading expertise and accumulated experience in building this class of chemical and product oil carrier. We are looking forward to continuing to work together with Ardmore in the months ahead to successfully fulfil their three further orders."


Mr. Ilie Juravle, Operations Manager - Tankers at Cargill, commented: "We are very happy with the Ardmore Seavaliant, which is a welcome addition to the Cargill fleet. The Seavaliant fits very well with our emphasis on chartering modern, fuel-efficient vessels and we are confident that she will play her part to the full in upholding Cargill's reputation for safe, high quality shipping operations."