Cosco Shipping Ports to Build Freight Station at Khalifa Port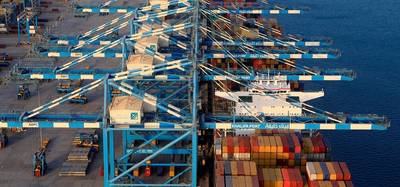 Abu Dhabi Ports and Cosco Shipping Ports Limited (CSP) and Abu Dhabi Ports broke ground for the construction of a new container terminal at Khalifa Port during a high-profile event on Sunday, reported WAM.
The ports also signed an agreement
with Abu Dhabi Ports Company
for a container freight station, which is expected to be the largest in the region.
The new container freight station will provide Abu Dhabi trade with a state of the art facility offering bonded 'LCL/FCL' consolidation and de-consolidation services, cross stuffing, cargo weight reduction, short term warehousing for de-consolidated cargo as well as easy connectivity with the container terminals in Khalifa Port.
The new freight station will comprise an area of 275,000 square metres with plans for adding another 150,000 sqm at a later stage. It is scheduled to open in the first quarter of 2019, the same time when the new container terminal at
Khalifa Port opens
.
Speaking on the occasion, Dr. Sultan bin Ahmad Sultan Al Jaber, Minister of State and Chairman of Abu Dhabi Ports said, "Following the guidance and vision of the leadership, Abu Dhabi Ports has played an important role in expanding trading links between the UAE and China, which is now the UAE's second largest trading partner. The partnership between Abu Dhabi Ports and Cosco Shipping Ports to develop the region's largest container freight station will add a new dimension to UAE-China trade relations and is fully aligned with Abu Dhabi's Vision 2030 to drive growth, attract investment, support economic diversification and create sustainable jobs."
Captain Mohammad Juma Al Shamisi, CEO of Abu Dhabi Ports, said the strategic partnership with Cosco shipping will boost trade between the two countries and will also open up new markets for Abu Dhabi.
Abu Dhabi Ports, which operates Khalifa Port, last year signed a 35-year concession agreement with Cocso to operate a new $700 million terminal that will add 2.4 million twenty-foot equivalent units (TEUs) a year to the port's existing capacity of 2.5 million TEUs. Cosco Shipping also has an option to increase the capacity by a further 1.1 million containers.