Top US Shipping Execs to Receive USS Awards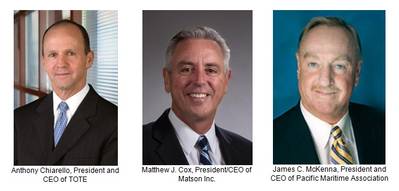 Anthony Chiarello, Matthew J. Cox and James C. McKenna named 2015 USS Admiral of the Ocean Sea Award recipients
The United Seamen's Service (USS) 2015 Admiral of the Ocean Sea Awards (AOTOS) will be presented to Anthony Chiarello, President and CEO of TOTE; Matthew J. Cox, President/CEO of Matson Inc.; and James C. McKenna, President and CEO of Pacific Maritime Association.
The maritime industry awards are to be presented at the 46th annual gala industry dinner and dance in New York on November 13, 2015. Recognition will also be given to American seafarers for specific acts of bravery and heroism while at sea.
General Kenneth Wykle, USA (Ret.), Chairman of the USS AOTOS Committee, announced the recipients. "Anthony Chiarello is a fourth generation maritime industry veteran. Matt Cox's leadership at Matson continues to energize the Hawaii ocean trade.Jim McKenna has successfully led PMA through negotiations that have benefited both management and labor. We are fortunate to have such accomplished AOTOS honorees."
Anthony Chiarello, with some 35 years in transportation and logistics, joined TOTE in August 2010, and was previously COO and Executive Vice President of NYK Logistics (Americas), Inc. Prior to NYK, Chiarello was with the AP Moller/ Maersk organization for 16 years. He held various executive positions at Maersk including President of Maersk Logistics USA Inc.; President of Hudd Distribution; Chairman of Maersk Customs Services; President of Maersk Equipment Service Company, Inc., and Assistant Vice President of Universal Maritime Service Corporation, a previous stevedoring and terminal subsidiary of Maersk.
Matt Cox became Matson Inc. CEO in June 2012, and has been president since 2008. Matson has been serving the U. S. mainland/ Hawaii trade for more than 100 years. He is responsible for overseeing the entire Matson organization, which includes Matson Navigation Company, Inc. (ocean transportation), Matson Logistics, Inc. (logistics) and Matson Terminals, Inc. (terminal operations in Hawaii). He also serves on the board of directors of Matson, Inc. In addition to his Matson responsibilities, Cox is on the board of SSAT, a stevedoring joint venture in which Matson owns 35 percent. Cox joined Matson in June 2001 as senior vice president and chief financial officer. In 2005, he became Executive Vice President and Chief Operating Officer. He had a key role in the start up of Matson's China - Long Beach Express in 2006. Prior to Matson, Matt Cox had 15 years of experience in the transportation industry, 12 of which were at American President Lines, Ltd. (APL).
In addition to Jim McKenna's role in negotiating and administering maritime labor agreements on the West Coast of the United States, particularly the issues recently settled, he also oversees all operations, including administration of payroll and benefits, pension and training to the ILWU workforce and PMA staff. Accountabilities include: negotiate the contract, hire, fire, discipline, arbitrate work issues/disputes, dispatch, payroll and train the workforce. The PMA also administers all benefits, including health and welfare, pension, vacation and 401(k) for the 42,000 workers employed at longshore, marine clerk, and walking boss/foreman jobs. Prior to joining PMA in July 2003, McKenna was chief operating officer at Horizon Lines (formerly CSX). McKenna has nearly 30 years of domestic and international maritime industry experience that includes overseeing vessel operations, procurement, terminal operations and labor relations activities. He worked at Sea-Land in Oakland, Calif.
Proceeds from the AOTOS event benefit USS community services abroad for the U.S. merchant marine, seafarers of all nations, and U.S. government and military overseas. The recipients will share the evening with a group of American seafarers who will be honored for acts of bravery at sea.
For AOTOS 2015, Michael Sacco, President of the Seafarers International Union, is Dinner Chairman. F. Anthony Naccarato of American Maritime Officers Service and Joseph Cox will be National Committee Co-Chairmen.
USS continues to provide community services for the U.S. Merchant Marine, the American Armed Forces, and seafarers of the world. USS, a non-profit agency established in 1942, operates centers in six foreign ports in Europe, Asia, and Africa and in the Indian Ocean, and also provides seagoing libraries to American vessels through its affiliate, the American Merchant Marine Library Association.