SHIPPINGInsight and CMA to Be Held Back-to-back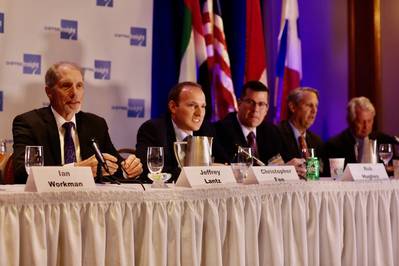 Two U.S. shipping conferences have joined forces to create the first ever North American Shipping Week, to be held October 12-16 in Stamford, Conn., organizers announced Thursday.
SHIPPINGInsight will open the week on October 12, one day ahead of its orginal opening date, followed back-to-back by CMA Shipping starting on the afternoon of October 14.
CMA Shipping, originally scheduled to be held from March 31 through April 2, had been rescheduled to take place June 29-July 1 due to the coronavirus pandemic.
"The health and safety of attendees is of paramount importance to the CMA and as a safe environment cannot be guaranteed in June the summer edition will not run", said Joe Gross, President of the Connecticut Maritime Association. "The CMA's primary goal is to deliver an event which best serves the maritime community."
"What we focused on was what would be best for the industry writ large and the importance that our community be safe during this pandemic," said Carleen Lyden Walker, Chief Evolution Officer of SHIPPINGInsight. "We also discussed how our relationship-driven industry thrives on the personal connection and trust built through face-to-face interactions. Both organizations deliver quality programs that have distinct goals: SHIPPINGInsight 20/20 focuses on technology and innovation with CMA Shipping putting the emphasis on commercial engagement."