Korea Shipyard Delivers Almi Suezmax Tankship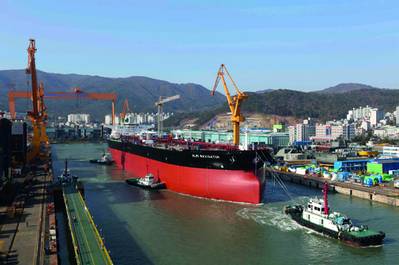 Almi Tankers S.A. has received M/T Almi Navigator following the vessel's delivery at DSME's Okpo Shipyard., South Korea.

This 157,787 dwt tanker is the eighth Suezmax of Almi's newbuilding programme and was built by Daewoo Shipbuilding & Marine Engineering Co. Ltd (DSME) to the highest industry standards.

The Almi Navigator is an Eco-friendly vessel, designed with the owner's responsibility to safeguard the environment in mind. Almi Tankers recognises the need to consistently and continuously improve performance, especially in environmental issues. Therefore, they maintain that all vessels operated by them will always be equipped with top of the line technologies to enhance safety and ensure the best possible protection of the environment.

The new tankship is equipped with a MAN B&W 6S70ME-C8.2 engine and Hyde Marine's Filtration and UV Radiation Ballast Water Treatment System.

The vesse's specifications reflect Almi Tankers' aim of ensuring reliable and efficient operation throughout its lifetime. The Almi Navigator flies the Liberian flag and is classed by DNV.