Neptune Shipyard Completes First AIDAnova Module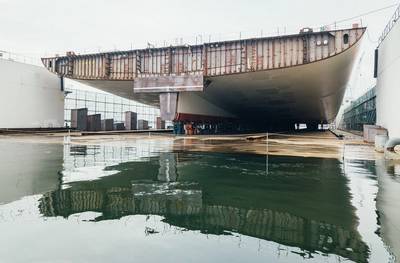 A module of the new cruise ship AIDAnova has been released into the water for the first time at the Neptun shipyard in Rostock, which belongs to the Meyer Group. This is the first of two floating parts, so-called Floating Engine Room Units (FERU), which was placed onto the Warnow river with a special lowering device.
The complex module, which stretches over 120 meters long, 42 meters wide and is three decks high, is carrying AIDAnova's four Caterpillar dual-fuel engines, and hence is the heart of the vessel.
The shipment of the first AIDAnova module from Rostock to the Meyer Werft shipyard in Papenburg is scheduled to take place from September 25-28, 2017, depending on the weather conditions. It's time to set sail as planned next Monday, September 25, 2017, at 10 a.m. at the Neptun shipyard in Rostock with a course set for the Kiel Fjord.
In the early morning hours of September 26, 2017, around 7 a.m., the floating part will begin the passage through the
Kiel Canal from
Kiel to Brunsbüttel. After a 12-hour journey, the floating module will arrive in Brunsbüttel on September 26, 2017, at around 7 p.m.
From Borkum, it will carry on toward Emden with an expected arrival time of 9 a.m. on September 27, 2017. The last passage will take the part from Emden to Papenburg, where the four dual-fuel engines will arrive around 7 p.m. on September 28, 2017.