Navy Joint Hi-speed Vessel Keel Laying at Austal Shipyard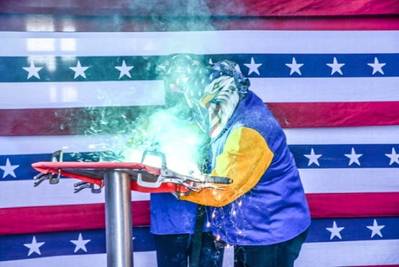 Ms. Virginia A. Kamsky, was chosen to sponsor the ship by Secretary of the Navy Ray Mabus, and was present at the keel laying ceremony for the fifth Joint High Speed Vessel 'Trenton' (JHSV 5), one of ten Austal-designed 103-meter U.S. Navy Joint High Speed Vessels under contract with the U.S. Navy.
A traditional keel-laying ceremony marks the first significant milestone in the construction of the ship. Due to Austal's modular approach to ship manufacturing, all 43 of the modules used to form this 103-meter aluminum catamaran design are already being assembled. For Austal, keel-laying marks the beginning of final assembly. Twenty modules have been moved from Austal's Module Manufacturing Facility (MMF) and erected in the final assembly bay in their pre-launch position, the first having been erected less than two months ago on January 17, 2014. The rest will follow over the coming months.

Craig Perciavalle, Austal USA President, made the following remarks regarding the keel laying event: "Celebrating this keel laying for the 5th Joint High Speed Vessel is further evidence of the maturity of the JHSV program." He went on to say, "Having successfully delivered the first two and knowing that four more are under various stages of construction in Austal's shipyard at this time, I am confident that serial production of these dynamic vessels will continue to move smoothly as planned."

Ship's sponsor, Ms. Kamsky is a recipient of the Navy Distinguished Civilian Service Award, which is the highest honorary award the Secretary of the Navy can confer on a Department of the Navy civilian employee. She is serving under a White House appointment as a member of the U.S. Secretary of the Navy Advisory Panel (SNAP), an advisory body which provides the Secretary of the Navy with independent advice and recommendations on critical issues facing the Department of the Navy and the Navy Secretariat.
Austal add that Ms. Kamsky was assisted at the ceremony by Mr. Paul Morehouse, an "A" Class welder who has been part of the Austal team since October of 2011 (see picture).