Croatia Shipyard Uljanik Launches Ferry, Tank Barges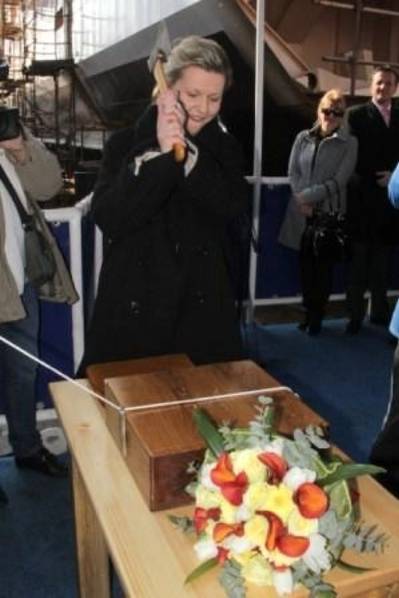 The 100m long RoRo ferry was launched for the Croatian national shipping company Jadrolinija as the second of a series of 4 such vessels, and the two river barges for Sweden's Wisby Tankers AB.
The ferries are designed for two-way direct sailing for the transportation of 600 passengers in summer months or 320 passengers in the winter period in the closed lounge. The ferries will also be able to transport 145 standard vehicles or 16 trailers of 40 tonnes each.

All the vessels from the series will be 99.8 m long, 17.5 m wide, draught 2.4 m, deadweight at maximum draught of 950 tonnes and will have a speed of 12.5 knots. Each vessel will be driven by four Volvo (Penta) main engines each having a power of 442 kW at 1800 rpm.

Officials from Uljanik and Jadrolinija attended the launching while the first lady of the ceremony, Ms Sandra Bilić, an engineer who works in the shipyard, released the vessel into the sea with a cutting of a rope.
Mr. Eduard Milovan, director of Uljanik Shipyard, thanked those present for their contribution, the inspectors of Jadrolinija, the inspectors of the Croatian Register of Ships as well as Uljanik workers who are planning to have 6 newbuildings launched this current year.

A week before this launching two new river barges for the river transportation of crude petroleum and petroleum products were launched in the 3. MAJ shipyard for the Swedish company WISBY TANKERS AB. Both barges have identical characteristics; 59.5 m long, 16 m wide and with a total height of 4.6 m. They were constructed under the supervision of the classification society BV, and will be sailing under the Columbian flag inform Uljanik.



Tank barge launch