Dutch Shipyard Dry Docks 51-Meter Crane Pontoon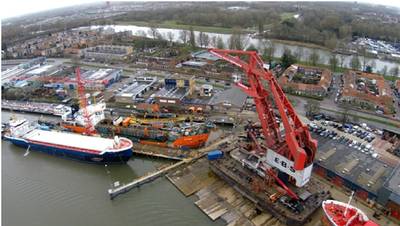 Dutch shipyard Hoebée B.V. in Dordrecht has dry docked the Kraan 92 crane pontoon from European Bulk Services, the shipyard announced last week. It is the largest vessel the shipyard has ever dry docked.
Normally, the 52 x 24 meter and 51 meter tall crane pontoon could be found near Boeispan 66, where it is used for the transshipment of dry bulk cargo, heavy minerals and scrap.
The contract with Hoebée comprises the normal under water works and in addition, the repair and renewal of damages in the bottom and bilges. Also, the slewing ring of the crane has to be replaced, which will require the 700 ton crane to be lifted at location by Mammoet.
The center of gravity of the pontoon is located 8 meters above the bottom. The weight of the vessel is approximately 2,000 tons. The pontoon is dry docked on 3 slipway tracks, using 6 slipway lorries.