Qatari Shipyard Lays Keels for Stan Tugs Pair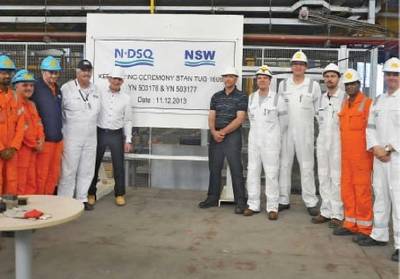 Qatari shipbuilder Nakilat Damen Shipyards Qatar (NDSQ) has laid the keels for two 16-metre long Stan Tugs, part of a seven-vessel order for marine services provider Nakilat SvitzerWijsmuller (NSW).
A ceremony to mark this step in the shipbuilding process was held at NDSQ's facilities located at Erhama bin Jaber Al Jalahma Shipyard in Qatar's Port of Ras Laffan.

The two twin-screw Stan Tugs have a bollard pull of 15 tonnes and will be used for mooring vessels visiting the Port of Ras Laffan. 



NDSQ is also currently building five other vessels for the NSW order: two 28M-long Azimuth Stern Drive (ASD) Tugs, two 31M-long ASD Tugs and one 22M-long glass reinforced plastic (GRP) Pilot Boat. The Stan Tugs, the ASD Tugs and the Pilot Boat will be delivered to NSW for use at Ras Laffan.


Abdullah Fadhalah Al Sulaiti, Managing Director of Nakilat and Chairman of NDSQ and NSW, said: "This milestone further confirms the strong contribution that NDSQ's shipbuilding operations are making towards Qatar's industrial sector."


The NSW is a 70:30 joint venture between Nakilat and Svitzer Middle East. The vessels operated by NSW include tug boats, pilot boats, line boats and crew boats. 

NSW offers a range of services including towing, escorting, berthing, pilot support, line handling services afloat and ashore, emergency response, and marine maintenance support.