Shots Fired in "Incident" Involving Vessel Off Yemen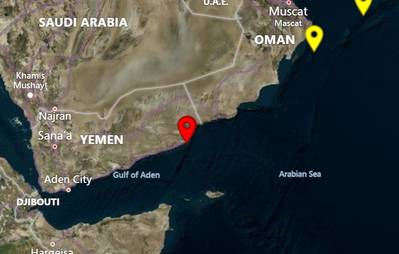 Britain's Maritime Trade Operations (UKMTO) agency said on Friday a vessel off Yemen's southern coast was involved in an "incident" with a government boat, downgrading the event from its initial assessment of an attack.
The agency had previously said the vessel was under attack and that shots were fired, adding that three boats, each with three or four people aboard, were also sighted.
UKMTO later said it had confirmed the event by authorities as government agency activity, terming the event incident rather than an attack.
Yemen's coast guard, when contacted by Reuters, confirmed a report in Yemeni news outlet Aden al-Ghad that a military police officer on board a coast guard boat had been shot and killed in the incident.
Maritime security company Ambrey said that, based on information provided to them, the vessel in question was a Cook Islands-flagged yacht, which was approached by Yemen's Coast Guard (YCG) after it did not respond to radio calls.
"According to the YCG, an armed security team, non-Ambrey, onboard the yacht then opened fire on the approaching Yemenis and attempted to escape perceived pirates," Ambrey said.
"The YCG returned fire and followed the yacht for approximately an hour until communications with the yacht could be established and the misunderstanding between the parties resolved."
Several vessels have been attacked in recent years off the coast of Yemen which has been torn apart by an eight-year conflict between the Iran-aligned Houthi group and a Saudi Arabia-led military coalition which backs Yemen's internationally recognized government.
(Reuters - Reporting by Adam Makary, Hatem Maher, Mohammed Alghobari, Lisa Barrington and Jonathan Saul; Editing by Clarence Fernandez, Christopher Cushing, Nick Macfie and Susan Fenton)