Marine Diesel Engines Showcased at Dubai Show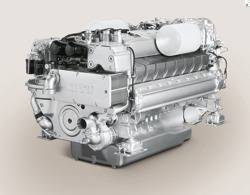 MTU shows off its engines in Dhubai
Tognum showcases its latest MTU-brand Series 2000 and 4000 yacht engines at the Dubai International Boat Show. The company's exhibits will also include automation and service solutions. Featured products include:
MTU Series 2000 engines with higher power outputs and improved power-to-weight ratio
Model 4000 M53/M63 engines with outputs from 746 to 2,240 kW (1,000 to 3,000 bhp) tailored for displacement yachts
Comprehensive range of services with MTU ValueCare
2000 Series Engines
The Series 2000 M94 marine engine boasts the highest performance values in its class and an improved power-to-weight ratio. An increase of up to 8 percent in power output has been achieved over the previous model.
Available in 8, 10, 12 and 16-cylinder versions, the engine covers the 930 to 1,940 kW (1,250 to 2,600 bhp) range at 2,450 rpm. With respect to fuel consumption at cruising speed and generation of higher charge pressures at lower rpms, turbocharger performance has been enhanced – key to shortening acceleration time on seagoing vessels.
In addition the engines meet all emissions standards applying to marine engines worldwide and come automatically equipped with a SOLAS (Safety of Life At Sea) certificate.

4000 Series Engines
Model 4000 M73/M93 diesel engines are powerful, clean and they boast an outstanding power-to-weight ratio which puts them at the top of their class for acceleration. Available in 12, 16 and 20-cylinder versions, they cover a performance range from 2,340 to 4,300 kW (3,140 to 5,770 bhp) and have enjoyed a high level of success in yacht applications for many years.

The latest engines in the series, Model 4000 M53/M63, are available in 8V, 12V and 16V versions covering the 746 to 2,240 kW (1,000 to 3,000 bhp) range. Their low fuel consumption, which extends the vessels' maximum range, makes them particularly suitable for operation in displacement yachts. This long-stroke engine develops high torque and thus delivers excellent acceleration even at low load.
Other outstanding features include the engines' high levels of availability and reliability coupled with long maintenance intervals of up to 33,000 hours which are especially significant for displacement yachts. The engines also offer excellent acoustic characteristics which contribute considerably to the level of on-board comfort. All Series 4000 engines meet globally applicable marine exhaust standards and come with SOLAS (Safety of Life at Sea) certification as standard.