Tata Steel Showcases Deepwater Pipeline Solutions at OTC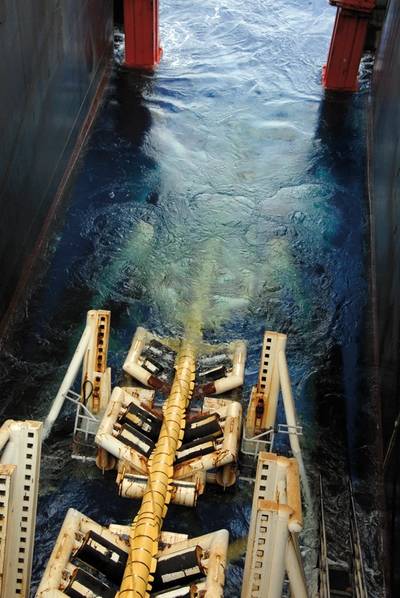 Tata Steel will demonstrate at this year's Offshore Technology Conference (OTC) in Houston May 6-9, 2013.

Tata Steel's pipeline packages include double submerged arc welded (DSAW) line pipe, manufactured at the 42-inch mill in Hartlepool, which the manufacturer claims is equipped with the strongest edge crimping and 'O' press combination in the world. This enables the manufacture of thicker wall DSAW pipes even in smaller diameters for withstanding the extreme collapse pressures in the deepest waters. The company's unique capability in thick-walled pipe, combined with its tight tolerances, means its line pipe offers further significant advantages during pipe lay.

Tata Steel produces high frequency induction (HFI) welded pipe for reel lay projects, which offers a consistently shorter procurement schedule, superior ovality and wall thickness tolerance to that of seamless line pipe. This leads to reduced costs at both the design, welding and installation stages, whilst maintaining exceptional product integrity.

The company also manufactures and project manages pipe-in-pipe solutions for high pressure, high temperature (HPHT) pipelines and risers, spools and bends. This comprehensive range of insulation options enables it to supply the optimum thermal efficiency.
Tata Steel recently completed a £100 million ($150 million) project to provide pipe for the Discovery Producer Services L.L.C. (Discovery) gas pipeline in Keathley Canyon, Gulf of Mexico. Discovery is a 60:40 joint venture between Williams Partners L.P. and DCP Midstream Partners L.P.

Tata Steel supplied Discovery's Keathley Canyon ConnectorTM with 214 miles of 20-inch diameter submerged arc welded line pipe, weighing more than 110,000 metric tons, which was manufactured at the company's 42-inch mill in Hartlepool, U.K. The pipe was laid at water depths of up to 7,380 feet and is designed to meet the required specification for deepwater conditions.