Alaskan Waters Sightseeing Catamaran Ordered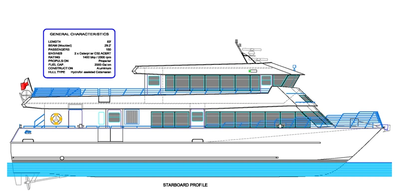 CIRI Alaska Tourism Corporation (CATC) orders a 150-passenger catamaran for KFT to add to its 12-vessel fleet, with delivery in early 2014.
CATC is making investments in its Seward-based Kenai Fjords Tours operation as well as at its Kenai Fjords Wilderness Lodge.
Designed by Teknicraft of New Zealand and constructed by All American Marine in Bellingham, Wash., the new vessel will join two sister ships, the Aialik and Orca Voyagers.

The ships' design offers stability, spacious seating, wrap-around viewing decks, oversized, fog-free windows and LCD video monitors. A hydrofoil wing helps lift the catamaran up out of the water, decreasing drag, increasing fuel economy and creating a smaller boat wake.
"All of Kenai Fjords Tours' vessels are custom-built for viewing Alaska wildlife and glaciers," said Paul Landis , CATC president and chief operating officer. "We wanted to develop the optimum vessel combining an unparalleled viewing experience with passenger comfort."

The investment in the KFT fleet comes just weeks before spring construction resumes on the rebuild of Kenai Fjords Wilderness Lodge on Fox Island. Being built by Seward-based Harmon Construction, the lodge will be completed and available for guests beginning June 1, 2013. The new, 3300-square-foot building boasts immense windows overlooking Resurrection Bay, a spacious dining area and lounge and a redesigned kitchen that will allow for a new culinary program.