Volvo Penta Powers Chicago Sightseeing Boat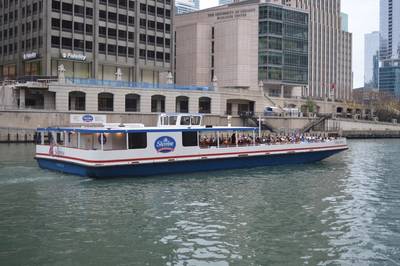 The newest addition to the Shoreline Sightseeing fleet in Chicago is powered by a pair of D13 400 hp Volvo Penta engines.
MV Skyview is Shoreline's first vessel with Volvo Penta engines, and according to Captain Chris LeBlanc, senior captain and Shoreline manager, Skyview is burning less than three gallons per hour for both engines during sightseeing tours. Other comparable boats in the fleet consume more than 10 gph. LeBlanc said the boat is smoother to run, easier to control and provides excellent torque, even at low RPMs, for docking and maneuvering in the
narrow Chicago River
. He also said the Volvo Penta engines produce no smoke or fumes and lower noise levels on deck, a big plus when conducting narrated tours.
The 100-ft. craft was built by
Blount Boats
of Warren, R.I., and designed by Seacraft Design of Sturgeon Bay, Wisc. The steel vessel carries up to 300 passengers for architectural tours of the Chicago skyline. The twin Volvo Penta D13MH diesels with ZF W325 gearboxes were supplied and commissioned by Allemand Industries of Harvey, La.
"This shallow-draft excursion boat is a perfect showcase for Volvo Penta's high-performance, fuel-efficient and clean-burning diesel technology," said Dave Brown, director of marine commercial sales for Volvo Penta of the
Americas
. "The boat's operators needed a vessel that was economical to operate and easy to maneuver in narrow waterways, while at the same time optimizing passenger comfort – and that's exactly what Volvo Penta delivered."