AIDA Cruises' New Flagship Receives Signature Paint Job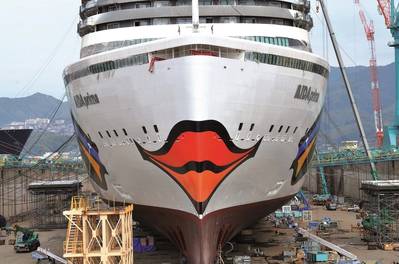 At the Mitsubishi shipyard in Nagasaki, Japan, the new flagship of AIDA Cruises is now receiving its beaming smile.
At the end of March, preparatory work began on the 300 m long white hull of AIDAprima to apply the painting to the bow that is typical for AIDA: kissing lips, eyes, and waves. Since the brand motif of AIDA is individually designed on every ship in the fleet of
Germany
's biggest cruise operator, Rostock artist Feliks Büttner provided a special template for AIDAprima. The inventor of the AIDA kissing lips, eyes and waves faced the challenge with the newest ship of adapting the graphic elements for the first time to a newly constructed bow. A completely new kind of hull design increases
energy efficiency considerably
. The position lights and anchor hatch in the bow section also had to be taken into account in the application of the color so that the painting could develop its familiar three-dimensional effect. A total 342 liters of paint of eleven different colors are used.
In 1996, AIDA Cruises became the first cruise company to introduce painting of the bow. For two decades, AIDA ships have been wearing the smile across the oceans. Upon completion, the kissing lips of AIDAprima will shine across a total area of 150 m². Each eye on the starboard and port side takes up and area of 212 m2, and the blue waves on both sides of the hull fill an area of 330 m². The entire painting extends over a length of 261 m, surpassing all previous ship paintings in the AIDA fleet.
AIDAprima starts its maiden voyage on October 1 from Yokohama, Japan. The unique 50-day journey ends on November 20, 2015, in Dubai. This exclusive cruise can also be booked in five different partial cruises. In the ensuing winter season, AIDAprima will complete seven-day Orient routes from Dubai and Abu Dhabi. On March 18, 2016, the second stage of the maiden voyage will begin, which will take guests from Dubai to the future
home port of Hamburg
in 38 days.
On April 30, 2016, the first seven-day trip of AIDAprima from Hamburg to London/Southhampton, Paris/Le Havre, Brussels/Zeebrugge, and Rotterdam will begin, kicking off the cruise's year-round schedule.