SOLASOLV Supplies Stolt Significant Ship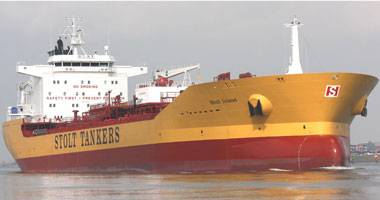 Chemical tanker Stolt Island, one of a series of six sister vessels, has been selected as a Significant Ship of 2009 by the Royal Institution of Naval Architects. She was delivered to her owners with 18 SOLASAFE anti glare roller screens at her navigation bridge windows. When in use the screens will reject the glare, heat and uv light from the sun. The benefits of the screens' infra red rejecting properties are three fold; creating a more comfortable working environment, reducing air conditioning running costs and reducing Green House Gas emissions. With the additional benefits of minimal eye strain due to reduced glare and personal protection from uv light, the ships crew will be more able to concentrate on their duties.

All of these benefits go towards helping shipowners and managers with their Fatigue Management programs and requirements to improve a vessel's carbon footprint.

All six of the 43,593dwt vessels were built by STX Norway Florø for owners Stolt Tankers BV and are considered to be state-of-the-art chemical tankers with 39 cargo tanks, 24 being in stainless steel and 15 in zinc-coated steel and with 39 cargo pumps. The specially designed two-stroke diesel engine combined with a good hull design gives the vessels a low fuel oil consumption at their service speed of 15 knots.