Significant Truck Activity at Vancouver Port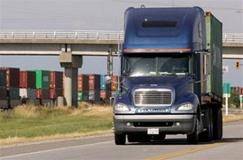 The trucking disruption is affecting the movement of containers by truck to and from Port Metro Vancouver's four container terminals. In general, 70% of containers arrive and depart Port Metro Vancouver container terminals by rail and 30% by truck.

Following yesterday's clear actions by Canada, B.C. and Port Metro Vancouver to protect the economy, we are seeing significant truck activity at Port Metro Vancouver terminals.

The volume of container truck transactions on March 20, 2014 was nearly 40% of normal. It is the highest level since the trucking disruption began.

"Decisive action was announced yesterday and there are clearly truckers willing to service the port," said Robin Silvester, President and CEO of Port Metro Vancouver.

"We are continuing to move forward with an acceleration of the plan to reform Port Metro Vancouver's Truck Licensing system," said Silvester. "Today we will be informing those license and permit holders with expiry dates in May."