MarQuip Builds Exhaust with Silencer and SCR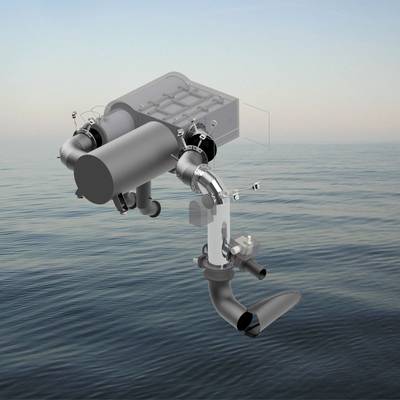 Manufacturer of underwater exhaust outlets and water-cooled exhaust systems MarQuip said it is creating a marinized IMO TIER III-certified exhaust system for an Italian shipyard. Working in close cooperation with its partners, the Dutch company has developed a fully custom module silencer/SCR system that will combine the working principles of Selective Catalytic Reduction – which eliminates most harmful NOX compounds – with highly efficient noise reduction.
The silencer/SCR module is fitted on MarQuip's water-injection piece with underwater exhaust, and achieves a noise reduction of 35 dB(A) while complying fully with IMO TIER III NOX limitations. The marine-proof system fulfilled a range of requirements linked to the client's needs and the engine specifications.
The first challenge was staying within the maximum backpressure specified by the engine manufacturer. This was particularly complicated by the fact that adding after-treatment equipment to exhaust systems can have the adverse side effect of increasing backpressure. MarQuip's specially designed underwater scoop helped reduce backpressure significantly while staying well within the designated dimensions.
The second step was noise reduction. This goal was achieved by utilising the high-frequency noise reduction capabilities of the SCR unit and complementing them with a dedicated low and medium-frequency silencer part.
The third and last step was to make the SCR unit fit for marine use. MarQuip engineers knew from experience that pressure pulses in waves of up to 500 mbar in heavy weather cause equipment to undergo low cycle fatigue. They carried out strength calculations which showed that a standard SCR unit fails after only 600 pressure pulses. The design was strengthened accordingly, and its ability to withstand pressure pulses significantly increased.
Production of the new silencer/SCR system has already started, and it is slated for delivery in the beginning of September.