Halyard to Install Exhaust Silencers for Alicat Wind Farm Vessels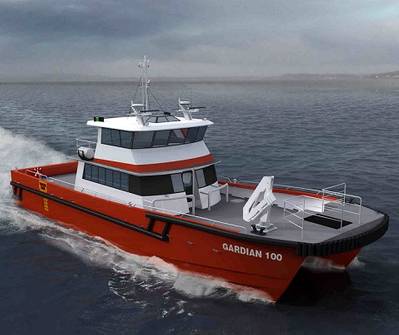 As the 2013 Seawork International Show approaches, U.K.-based marine exhaust specialist, Halyard, announced thatit has been selected by Great Yarmouth based boat builder Alicat Workboats to ensure its new four WFSV (Wind Farm Support Vessels) remain quiet on the water and to provide increased comfort for those on board.

Alicat Workboats commissioned Halyard to design, build and install a full exhaust silencer system for all four of its new state-of-the-art Offshore Wind Farm Service Vessels.

Alicat Workboats is constructing the four vessels (1x12m, 2x19m and 1x19m) for U.K. energy supplier E.ON with the first due to serve E.ON's Robin Rigg Wind Farm off the Solway Firth near Cumbria, at the latter part of this year. Throughout the project, Halyard has been working closely with Alicat Workboats to design a bespoke exhaust system in order to drastically reduce all sound and internal reverberation from engine to transom - known to cause sea sickness and discomfort for those working long hours onboard.

The workboats, which will achieve speeds of up to 30 knots will have a Halyard exhaust system fitted to each of its MAN V12 engines, using stainless steel risers and Dual Chamber composite silencers, to effectively eject cooling water and exhaust gases, whilst silencing the engine's combustion noise.