Silja Symphony Adopts nauticAi Log Electronic Logbooks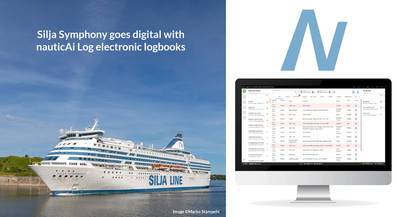 Northern Baltic Sea ferry operator Tallink Grupp, which operates vessels under the Silja Line and Tallink brands, has selected the Finnish-developed nauticAi Log type approved electronic record book for its fleet of ships, with the Swedish-flagged cruise ferry Silja Symphony as the first one to go paperless.
"We switched to paperless engine logbooks here on Silja Symphony from 1 June and feel that this is a good step towards even more modern and digitalised operations as well as our overall sustainability goal of going paperless. In general, we see that a digital log has both pros and cons, although the pros clearly outweigh the cons. For example, the electronic Oil Record Book (ORB) is clearly better than the paper equivalent, both
in legibility and in the ease of getting it signed by the Master," said Marcus Åkerholm, Chief Engineer of Silja Symphony.