Sines Port Delegation Visits Yantian Port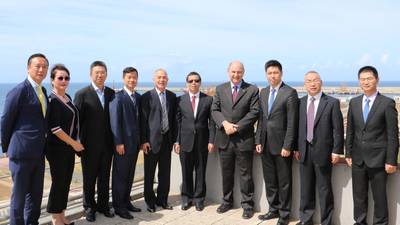 The Port of Sines, a first largest artificial port of Portugal and a deep water port, has received a delegation from the Yantian Port, accompanied by the Embassy of the People's Republic of China in Lisbon.

Aiming at discussing cooperation possibilities between the two ports, the delegation was particularly interested in the logistic potential of the Sines complex, highlighting the capacity to attract new investments, not only within the port jurisdiction area, but also at ZILS – Sines Industrial and Logical Zone.

We must enhance that the Port of Yantian is one of the ports of call comprised on the weekly service connecting the Port of Sines to the Far East through the Sines Container Terminal -Terminal XXI.

The Port of Yantian is the main port of Shenzhen province, with a total throughput of 13M TEU in 2018, representing nearly 56% of the total handled by the ports located on that Chinese province.