More MTU Engines Destined for Majestic Ferry in Singapore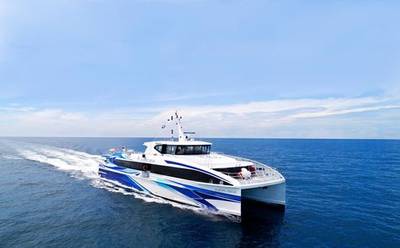 Rolls-Royce is to supply more MTU engines to fast ferry operator Majestic Ferry in Singapore.

Designed by Incat Crowther, a total of seven new fast ferries are being built at PT Cahaya shipyard in Batam, Indonesia over the next two years. Rolls-Royce is to supply 14 MTU engines for them by 2019. Each of the twin-hulled vessels is to be powered by two MTU 16V 2000 M72 units.
"The determining factor for this follow-on order is the positive experience the operator has had with MTU engines and with our service," said Chew Xiang Yu, a member of marine sales staff at MTU Asia.
Including the new vessels, the fleet is set to be 16-strong.
"A key criterion for our fleet is the fuel-efficiency of our engines. They should also have long maintenance intervals and be powerful and reliable," explained Max Tan, Managing Director from Majestic Ferry. "After our initial contact with Majestic in 2016, we worked with them to produce a specification package with the optimum features for large fast ferries. Our 16V 2000 M72, with its 1,440 kW power output, offered the ideal starting point."
Back in 2016 and 2017, MTU had delivered a total of six MTU Series 2000 engines for the operator's new Majestic fleet. The first 39-meter twin-hulled ferry Majestic Dream went into service last summer, followed by the Majestic Pride in the autumn/fall. The third vessel, the Majestic Faith is set to join them from April 2018 onwards.
Indonesian shipbuilder PT Cahaya is now to build seven more 39-meter catamarans, each able to take up to 317 passengers. Majestic Ferry's approach is to acquire larger ferries in order to be able to accommodate growing passenger numbers. Traveling at around 34.5 knots, the ferries whisk passengers in comfort between Singapore harbor and the
Indonesian island
of Batam.
Travel time from Singapore to Batam is one hour. Large numbers of Singapore residents take this opportunity to go for day trips or weekend excursions, with tourists also appreciating this fast sea link across the Singapore Strait.