FPSO Towed Singapore to Brazil by Fairmount Tugs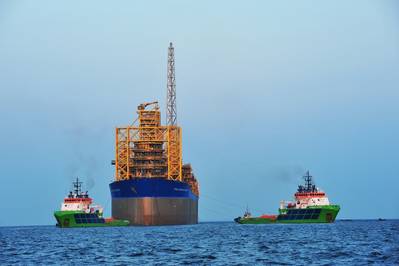 Fairmount tugs safely deliver FPSO 'Cidade de Anchieta' after a 9,500 mile tow.
Fairmount Marine's super tugs Fairmount Glacier and Fairmount Summit delivered FPSO Cidade de Anchieta for placement in the Baleia Azul Field, offshore Rio de Janeiro, Brazil at a record-breaking average speed of 8.4 knots say Fairmount Marine. En route just one bunker call was made at Cape Town.
The 1975 build FPSO, owned by SBM, had been modified and upgraded in Singapore prior to the towage operation, in order to take up a third contract on long-term lease by Petrobas in the Baleia Azul Field.
Fairmount Marine is a marine contractor for ocean towage and heavy lift transportation, headquartered in Rotterdam, the Netherlands. Fairmount's fleet of tugs consists of five modern super tugs of 205 tons bollard pull each, especially designed for long distance towing, and a multipurpose support vessel.