Singapore Marine Fuel Sales at 3-month High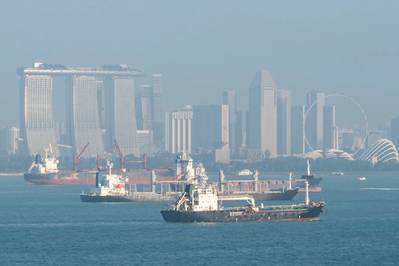 Singapore marine fuel sales climbed to a three-month high of 4.233 million tonnes in April, up 1.6 percent from the previous month but 0.5 percent lower from the same time last year, data from the Maritime and Port Authority of Singapore (MPA) showed on Monday.
In a signal of steady demand for marine fuels, the firm April sales volumes came despite rising fuel costs and supply disruptions of some bunker fuels towards the end of the month, trade sources said.
The cost of 380-centistoke (cst) fuel oil cargoes, the mainstay bunker fuel for large vessels, in April averaged $385 per tonne in Singapore, up 26 percent from the $305 a tonne average in the same period last year.
Rising bunker fuel costs have mirrored a surge in global crude oil prices amid rising geopolitical tensions and signs of tightening global supplies.
Adding to this, the Singapore fuel oil market in late-April rallied as inventories have dropped at the same time that some supplies in the region did not meet the standards for use as shipping fuel, further reducing the amount of supply available.
The number of vessels that called at Singapore for bunkers, the world's largest marine refueling hub, fell by 5 percent from last year to 3,329 ships, MPA data showed.
However, vessels calling at Singapore for bunkers loaded higher quantities of fuel with each ship taking on an average 1,270 tonnes of fuel in April, a two-month high and above the 2017 average of 1,240 tonnes.
Since the start of the year, Singapore marine fuel sales totaled a record 17.143 million tonnes this year, up 1 percent from the previous record of 16.904 million tonnes sold a year earlier.
Fuel Types
Sales of the 380-cst high-sulfur fuel oil totaled 3.023 million tonnes in April, 5 percent lower than a year earlier, and 3 percent lower from the previous month.
Sales of the less costly high-viscosity 500-cst marine fuel were at a two-month high of 926,000 tonnes up 6 percent from last year and 12 percent higher from March.
Sales of Emission Control Areas-compliant low-sulfur marine gas oil climbed to 126,000 tonnes in April, up 24 percent from last year and 6 percent higher from March.
Sales of the lower-viscosity 180-cst fuel were at a 2018 low of 23,000 tonnes.
(Reporting by Roslan Khasawneh; Editing by Vyas Mohan)