Singapore Reigns Supreme in International Shipping Center Development Index
For the 10th year in a row, Singapore ranks first in the Xinhua-Baltic International Shipping Center Development Index (ISCDI) Report.
Published jointly by the Chinese state news agency, Xinhua and global maritime data provider Baltic Exchange, the report lists Singapore as the global leading maritime center, followed by London and Shanghai.
The island nation scored 95.32 out of a possible 100 points, while London scored 83.35 points and Shanghai took third place with 81.58 points.
Singapore has held the top position since the index began a decade ago.
According to a press release issued Friday, Singapore has retained its position due to its winning combination of strategic location, international outlook, an established ecosystem of professional global maritime services, and good governance.
London and Shanghai have retained their positions of second and third place within the Index for the past four years.
Further down the top 10, there was little movement as Hong Kong, Dubai, Rotterdam, and Hamburg take fourth, fifth, sixth and seventh place, respectively.
New York and its New Jersey port dropped by two places from eighth place last year, to 10th place this year while Athens/Piraeus moved up by one place. A relative newcomer to the Index, Ningbo-Zhoushan, sits at number nine. The Chinese city's ranking amongst the top 10 is primarily due to it being the busiest port in the world in terms of cargo tonnage.
The main findings of the index were as follows:
•Singapore leads the rankings for the 10th consecutive year followed by London, Shanghai, Hong Kong and Dubai
•Ease of doing business, access to professional maritime services and location remain key ingredients for a leading maritime business hub
•The top 10 locations remain largely unchanged since 2022 and features four Asian, four European, one Middle East and one United States location
A total of 43 maritime locations were rated as part of this report, which considers port factors including cargo throughput, number of cranes, length of container berths and port draught; number of players in professional maritime support businesses such as shipbroking, ship management, ship financing, insurance and law, as well as hull underwriting premiums; and general business environment factors such as customs tariffs, extent of electronic government services and logistics performance.
The average score amongst the top 10 ports is 77.21 out of 100, with the average across the entire 43 rankings standing at 59.19.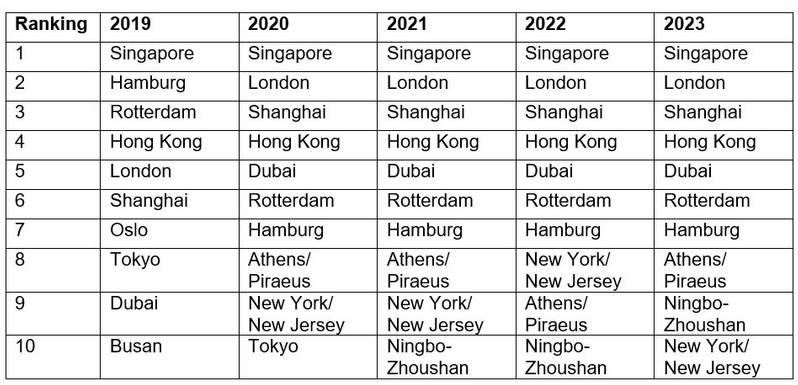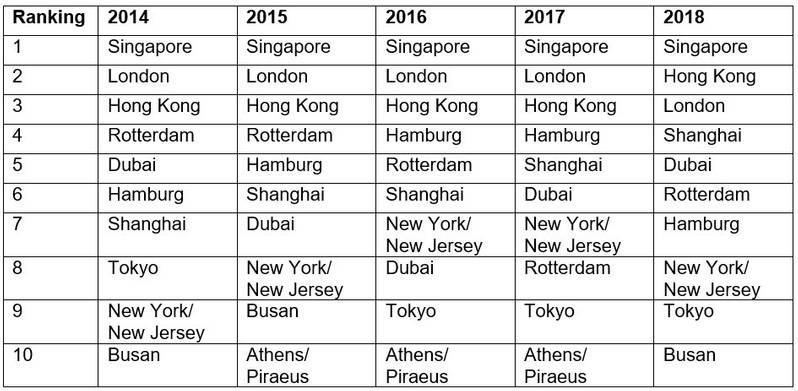 Baltic Exchange Chief Executive Officer Mark Jackson said:" It's been a decade since the Baltic Exchange started working with Xinhua News Agency on this Index and during that time we have witnessed a growing amount of trade move from west to east. This shift in trade flows is clearly visible looking at the Xinhua-Baltic ISCDI top 10 rankings over the past decade.
"This report is a valuable reminder of how intrinsic the maritime industry is to global trade. The best performing maritime centres demonstrate there is more than one way to grow a successful hub – whether borne out of location, encouraged through attractive policies and conditions or creation of a large port cluster. In every instance, collaboration across the various industry players is central to a maritime centre's growth and prosperity."

Xu Yuchang of China Economic Information Service, a subsidiary of Xinhua, said: "The China Economic Information Service is proud to present the 2023 Xinhua-Baltic International Shipping Centre Development Index Report, which we have produced in partnership with the Baltic Exchange. The report underscores the significance of maritime within world trade, and showcases the depth and breadth of this unique industry. In this 10th report we also spotlight the importance of emission reduction strategies and technologies that will be essential for the long-term sustainable future of the industry. We hope this report highlights the benefits that maritime centres bring to local economies and shines a light on how fundamental shipping is to global prosperity."
Chief Executive of the Maritime and Port Authority of Singapore,Teo Eng Dih, said:"We thank our international partners, industry, the research and enterprise community, as well as unions for the achievement. Together, our strong tripartite relationship has supported the development of Singapore as the preferred International Maritime Centre. We remain committed to fostering an environment that encourages enterprise, innovation, and talent development. We will continue our work with our partners to enhance Singapore's connectivity, advance digitalisation efforts, and accelerate the decarbonization of international shipping."