Singapore's Jaya Group Holds Seagoing Officers' Conference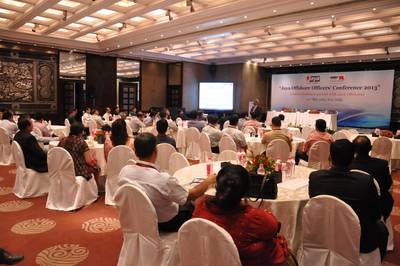 The offshore vessel operator and builder, held its first ever officers' conference in India, to be followed by similar gatherings in other countries.
The inaugural event, at the Hyatt Hotel in New Delhi, was attended by more than 100 Merchant Navy officers and their spouses along with Jaya's senior management led by Chief Executive Officer Venkatraman Sheshashayee, and the conference theme was 'Growing the role of the Indian seafarer with the Jaya Group as a global offshore vessel operator'.

This Conference is the first of a series of Officers' Conferences, which are being planned in Jakarta, Dubai, Kiev and Kuala Lumpur.

The event was also attended by senior managers from Bibby Ship Management, the UK based manager with whom Jaya has a robust partnership to provide trained and competent fleet personnel for Jaya vessels.

The one-day event was also a chance for senior Jaya officers to network and discuss the future strategic direction of the Jaya Group with the management.

In opening the conference, Mr Sheshashayee said that Jaya had changed dramatically in the past two years and was gradually being recognised as an international energy services provider. The focus was now on reinforcing the Jaya offshore and onshore teams with high quality training and the experience and ability to compete on a global basis.

He noted that the Jaya Group, thanks to its home base in Singapore in the heart of Asia, was ready to take advantage of the fundamental shift of economic activity from the West to the East. He told officers: "Jaya is perfectly placed to take advantage of these huge changes now taking place in the world economy. We can see that in future the balance will be tipped even more to the East and towards Asia."
Mr Sheshashayee added: "This conference, which we will hopefully make a regular event, is an important gathering during which we can focus on our offshore fleet personnel, the people who deliver our clients' expectations with their everyday diligence, professionalism and effort.